Lanyards, ropes, straps for ropes course
Discover our category of lanyards, ropes and straps for ropes course . Whether you're an adventurer or a professional, we've got you covered.
Our products are rigorously tested to meet the strictest safety standards. Quality is our number one priority.
Explore our varied range to find the equipment suited to your level and type of route. Safety and comfort guaranteed.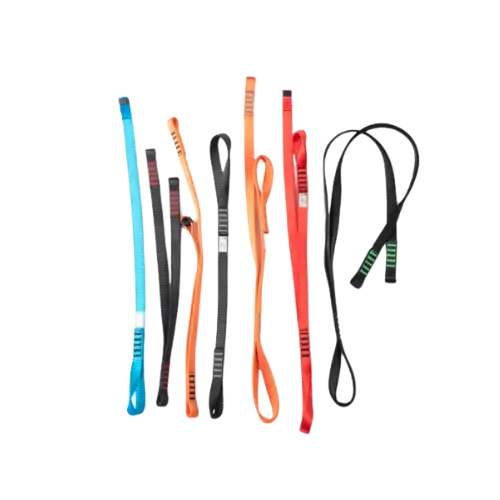 Lanyards, ropes, straps for ropes course
Discover a variety of lanyards, ropes and straps designed to withstand the harshest conditions, while providing comfort and security.
Our lanyards, ropes and straps are made with resistant materials, ensuring optimal safety.
The materials used are not only resistant but also durable, ensuring a long life of the product.
Our products are designed to be easy to use, reducing the time required for installation and dismantling.
Ideal for a wide range of ropes course activities, our products offer unrivaled versatility.
Do you have a project to create a park or need new activities?
Don't wait any longer to benefit from personalized support Your frequently asked questions
We are here to answer all your questions, don't wait any longer to make an appointment with a project manager.
What are the safety criteria for ropes course ?
Our ropes course lanyards meet international safety standards, ensuring safe use.
Are the ropes resistant to wear?
Yes, our ropes course ropes are made with high-end materials, offering excellent resistance to wear.
How to choose the right straps?
The choice of ropes course straps depends on the activity you plan to do. Our products are versatile and adapt to various situations.
Can I return the products if I am not satisfied?
Yes, we offer a flexible returns policy to ensure complete customer satisfaction.
Make your request for information below so that a leisure advisor can respond to your needs quickly
If you are looking for ropes course lanyards, ropes ropes course or ropes course straps, look no further. Our comprehensive range of ropes course equipment is specially designed to meet all your requirements, whether for leisure or professional activities. Each item is rigorously tested and certified, ensuring the highest quality in terms of ropes course safety.
In our catalog you will find lanyards for ropes course designed to withstand the most difficult conditions. Made with high-end materials, these lanyards guarantee exceptional breaking resistance. Likewise, our ropes course ropes are not only durable but also very resistant, making them ideal for all activities at height. As for the ropes course straps, they combine ease of use and versatility, thus offering an unrivaled user experience.
Not only do we provide premium ropes course equipment, but we also offer a comprehensive guide to help you make the best choice based on your specific needs. We understand that ropes course safety is a priority, and that is why we are committed to providing products that not only meet but exceed safety standards.
Invest in our range of ropes course lanyards, ropes course ropes and ropes course straps to ensure a safe and memorable adventure at height. Don't compromise on quality and safety, choose the best ropes course equipment on the market.