Climbing holds for ropes course
The ropes course requires cutting-edge equipment. Each hold plays a key role in the safety and enjoyment of climbers. This is where our expertise comes into play.
Our robust and durable sockets are designed to withstand bad weather while providing optimal grip. Security is never compromised.
Our collection stands out for its variety. Whether for novices or experts, our holds meet all needs, enriching each course.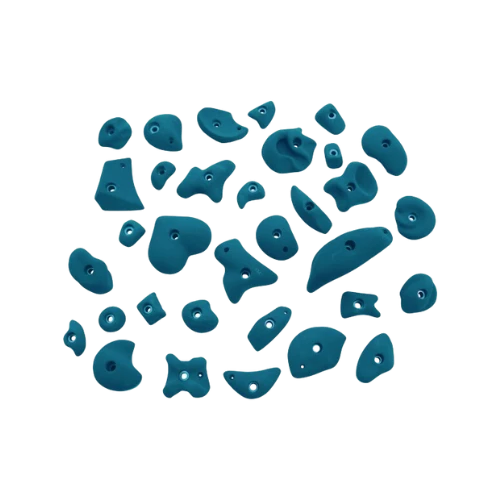 A complete range of climbing holds adapted specifically for ropes course , combining safety and performance.
Whether you're looking for holds for beginners or experienced climbers, our range offers a huge selection of types and sizes.
Thanks to their non-slip design, our grips provide optimal grip to avoid any risk of falling.
Designed for professionals, our sockets guarantee quick and hassle-free installation.
Our sockets are robust, designed to withstand bad weather and guarantee a long lifespan.
Do you have a project to create a park or need new activities?
Don't wait any longer to benefit from personalized support Your frequently asked questions
We are here to answer all your questions, don't wait any longer to make an appointment with a project manager.
How to maintain climbing holds for ropes course ?
It is recommended to clean them regularly with a soft cloth and water to maintain their stickiness. Avoid harsh chemicals that can degrade the quality of the catch.
Are the sockets weatherproof?
Absolutely. Our climbing holds are designed to withstand outdoor conditions, including rain and sun.
Do you offer custom sockets?
Yes, we offer tailor-made plugs based on the specific needs of your ropes course course.
What is the typical lifespan of sockets?
With proper maintenance, our sockets can last for several years without losing quality or safety.
Make your request for information below so that a leisure advisor can respond to your needs quickly
ropes course is much more than just a leisure activity; it is an experience that combines adrenaline, nature and sport. At the heart of this experience are the climbing holds. These discrete elements, often underestimated, determine the level of challenge, safety and pleasure of each course. This is why we make it a point of honor to offer the highest quality climbing holds for ropes course .
Each socket in our collection is precisely designed, aiming to combine robustness and performance. Made from durable materials, they are able to defy the outdoor elements, whether it's rain, heat or cold. This durability not only guarantees a long lifespan, but also consistent grip, essential for the safety of climbers.
But robustness is only one of the many qualities of our climbing holds for ropes course . They are also varied in terms of size, shape and difficulty, allowing ropes course operators to create courses suitable for all levels. Whether small challenges for beginners or technical routes for experienced climbers, our holds are up to every challenge.