The ropes course , a unique blend of adventure and communion with nature, requires serious preparation. Each piece of equipment plays a crucial role, and overlooking a detail can be risky.
Gloves, often underestimated, are the first line of defense against abrasions and scrapes. They guarantee a solid grip and precise handling of ropes and equipment.
Our selection of gloves for ropes course is the result of in-depth research. Each pair is designed to provide the best balance of comfort, durability and protection, ensuring an experience at height that is both safe and enjoyable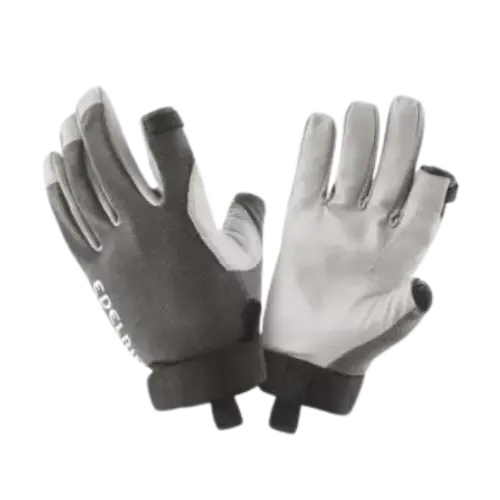 Explore a range of gloves specially designed for ropes course professionals and enthusiasts, highlighting durability, comfort, and protection.
Personalize your gloves as desired to make them a real promotional item for your ropes course
Guarantees a firm grip on ropes and equipment, essential for safety in ropes course .
To guarantee optimal dexterity when handling equipment.
For increased comfort during prolonged activities, thereby reducing sweating.
Do you have a project to create a park or need new activities?
Don't wait any longer to benefit from personalized support Your frequently asked questions
We are here to answer all your questions, don't wait any longer to make an appointment with a project manager.
What is the importance of gloves in ropes course ?
Gloves play a crucial role in providing hand protection against abrasions while ensuring better grip on equipment, which is vital for safety in ropes course .
How to choose the right size of ropes course gloves?
It is essential to select a size that fits your hands well, without being too tight, to ensure optimal dexterity and avoid discomfort.
Are ropes course gloves different from climbing gloves?
Yes, although both types of gloves offer protection, ropes course gloves are specifically designed to provide better grip on ropes and equipment used in ropes course .
How to maintain my ropes course gloves
It is recommended to hand wash with mild soap and air dry. Avoid exposing them to direct sunlight or machine drying them.
Make your request for information below so that a leisure advisor can respond to your needs quickly
ropes course is more than just an outdoor activity: it's a fusion of adrenaline, adventure and appreciation of nature. However, to fully enjoy this experience, it is essential to guarantee your safety, and that starts with choosing the right equipment. Among the essential equipment are gloves for ropes course , which play a decisive role in the protection of the hands and the overall success of the activity.
The importance of gloves in the world of ropes course cannot be underestimated. Facing various surfaces and textures, from rough ropes to tree bark, hands are constantly exposed to the elements. Quality gloves provide a barrier against these potential abrasions. Additionally, they provide the grip needed to handle equipment with precision, ensuring greater safety at height.
But the market for ropes course gloves is vast. How to distinguish quality products? This is where we come in. Our selection of the best ropes course gloves has been meticulously developed to present products that combine comfort, durability, and performance. These gloves are not just accessories, but reliable partners in your quest for aerial adventure.
The key to success in ropes course lies in preparation. With the right gloves, you are not only protected against the elements, but also assured of a strong and reliable grip. Whether you're a ropes course professional or a passionate amateur, investing in quality gloves can make the difference between a memorable experience and an outing fraught with inconvenience. Discover our range and choose safety, performance and comfort.