Harnesses and harnesses for ropes course
When embarking on the adventure of ropes course , the choice of equipment is crucial. Harnesses and harnesses ensure your safety while offering optimal comfort.
The ropes course is a unique experience, combining adrenaline, sport and nature. It is therefore essential to have reliable equipment adapted to each course, whether it is a gentle descent or a thrilling course.
Our selection of harnesses and harnesses is rigorously tested to guarantee the best experience. With our equipment, dive into the adventure with complete confidence, knowing that your safety is our priority.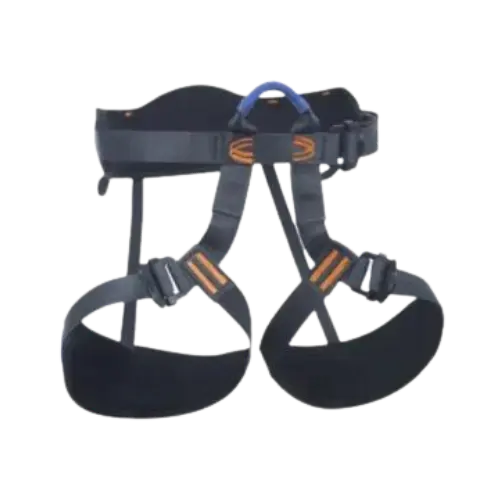 Our harnesses and harnesses
Discover our selected range of ropes course harnesses and ropes course harnesses, designed to meet the needs of professionals and enthusiasts.
Our harnesses are designed to provide maximum comfort throughout the activity.
Each ropes course harness is tested to withstand extreme conditions and guarantee a long lifespan.
Ease of adjustment to adapt perfectly to each user.
All our equipment meets the strictest international safety standards.
Do you have a project to create a park or need new activities?
Don't wait any longer to benefit from personalized support Your frequently asked questions
We are here to answer all your questions, don't wait any longer to make an appointment with a project manager.
What is the difference between a ropes course harness and a ropes course harness?
The harness is generally more complete and wraps around a larger part of the body than the harness, the latter being concentrated mainly around the waist and thighs.
How do I maintain my ropes course harness or harness?
It is recommended to regularly check the condition of your equipment, clean it with a soft cloth and store it away from direct sunlight and moisture.
Are harnesses and harnesses suitable for all ages?
Yes, we offer various sizes suitable for both children and adults. Choosing the correct size is crucial for optimal safety.
What are the criteria for choosing the ropes course harness or harness suited to my needs?
When selecting a harness or harness for ropes course , it is essential to take into account your height, your weight, the type of activity (beginner, intermediate, expert course), the frequency of use, as well as the comfort and adjustability features. Also make sure the equipment is certified according to current safety standards.
Make your request for information below so that a leisure advisor can respond to your needs quickly
In the demanding world of ropes course , the importance of quality equipment is undeniable. Whether you are a beginner looking to discover the joys of this activity or a professional with years of experience, your safety depends on the reliability of the equipment you wear. Harnesses and harnesses for ropes course are not simple accessories, but vital elements guaranteeing your well-being.
Our ropes course harnesses are carefully designed to ensure a perfect fit, minimizing risk while maximizing comfort. Each ropes course harness in our collection is the result of years of research and development, showcasing the expertise and dedication of our engineers to create exceptional products.
Safety should never be compromised, especially in an activity as thrilling as ropes course . That's why we've invested time and resources to ensure that every harness meets the highest standards. Not only are they sturdy and durable, but they are also lightweight and comfortable, allowing unparalleled freedom of movement.
As ropes course continues to grow in popularity as a recreational and sporting activity, it is essential to stay at the forefront of equipment innovation. With us, each ropes course harness and ropes course harness is synonymous with confidence, comfort and safety. Dive into adventure with peace of mind, knowing you're equipped with the best.