Tyrolean workshops for ropes course
Zip lines are at the heart of the ropes course experience, combining adrenaline and panoramic views. The quality and safety of this equipment are essential to ensure a memorable and risk-free experience for users.
Our selection is the result of in-depth research, prioritizing robustness, safety and durability. Each zip line is designed to meet the strict requirements of professionals, guaranteeing performance and reliability.
By opting for our ziplines, you are banking on excellence, offering your customers an unforgettable adventure while ensuring their safety at every step.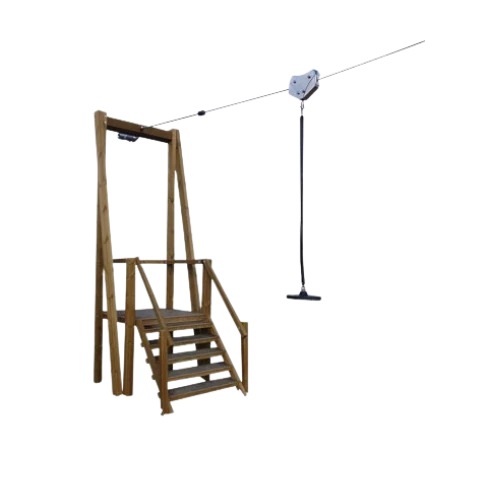 Discover a varied range of zip lines specially designed for ropes course installations, combining robustness, durability and performance.
Our zip lines are made with high quality materials to guarantee their longevity and resistance to outdoor conditions.
All of our ziplines incorporate advanced safety mechanisms to ensure a smooth and safe descent.
Designed for quick and hassle-free installation, no more wasted time.
Our ziplines are compatible with most ropes course installations, allowing for easy integration.
Do you have a project to create a park or need new activities?
Don't wait any longer to benefit from personalized support Your frequently asked questions
We are here to answer all your questions, don't wait any longer to make an appointment with a project manager.
What is the average longevity of a zip line for ropes course ?
The lifespan of a zip line depends on its use and maintenance. However, with regular maintenance, our zip lines can last for several years without compromising safety or performance.
Are your zip lines suitable for all ages?
Yes, our ropes course ziplines are designed to be used by people of all ages, while ensuring optimal safety.
Are there any safety standards to follow during installation?
Absolutely, it is crucial to follow the installation guidelines provided and adhere to local safety standards when installing zip lines.
Can I get training for installation and maintenance?
Yes, we offer training sessions to assist in the proper installation and maintenance of our zip lines.
Make your request for information below so that a leisure advisor can respond to your needs quickly
The ropes course is a popular activity for thrill-seekers and nature lovers. At the heart of this experience, the zip lines play a crucial role, providing moments of adrenaline while allowing participants to fly over majestic landscapes. However, choosing the right zip line should not be taken lightly. Safety, durability and performance are essential criteria that every professional in the sector must consider.
Our ropes course ziplines embody excellence in equipment. They are designed with meticulous attention to detail, from the choice of materials to the design of safety mechanisms. By incorporating the latest technological advances and adhering to industry standards, we ensure that each zipline not only provides a smooth and exhilarating experience, but also maximum safety.
When it comes to ensuring an unforgettable ropes course experience, it is vital to focus on quality. Our range of zip lines meets this requirement, making us a preferred choice for ropes course courses and similar facilities across the world. By combining robustness, innovation and reliability, our products set the standard for ropes course ziplines. Choose excellence, invest in safety and ensure that every descent is as breathtaking as the last.