The ropes course , an experience combining adventure and nature, requires safe and reliable equipment. Our hooks are the cornerstone of this guarantee.
The result of years of research, these hooks combine quality materials and rigorous design. They are the preferred choice for both professionals and novices.
Practical and solid, they guarantee simple use and enhanced security. For your adventures at height, focus on excellence.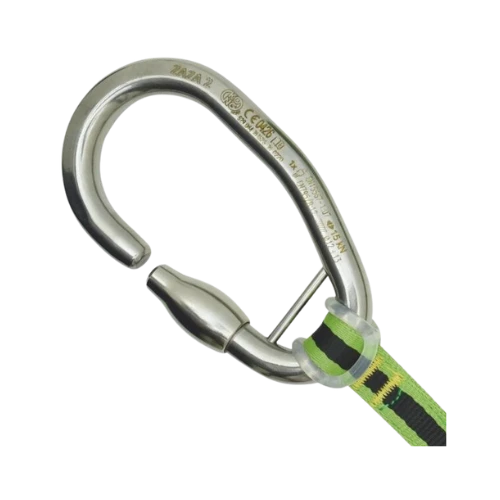 Hooks for the ropes course
Discover our range of hooks specially designed for ropes course , combining robustness and reliability.
Our hooks are made from high quality materials, ensuring their durability.
Rigorously tested, our hooks guarantee maximum safety in ropes course .
Designed with the user in mind, they are easy to attach and use.
Our hooks are compatible with a variety of ropes course equipment.
Do you have a project to create a park or need new activities?
Don't wait any longer to benefit from personalized support Your frequently asked questions
We are here to answer all your questions, don't wait any longer to make an appointment with a project manager.
What is the average lifespan of a ropes course hook?
With proper maintenance, our ropes course hooks can last for several years, ensuring long-lasting and secure use.
Are your hooks certified for ropes course safety?
Yes, all of our ropes course hooks are tested and certified to ensure the highest quality and safety.
How do I maintain my ropes course hooks?
It is recommended to clean them regularly and inspect them before each use to ensure they are in good condition.
Can I use your hooks with any ropes course equipment?
Our hooks are designed to be compatible with a variety of equipment, but it is always good to check the product specifications.
Make your request for information below so that a leisure advisor can respond to your needs quickly
Enjoy a ropes course in complete safety thanks to our hooks for ropes course
The world of ropes course is a mix of adrenaline, natural exploration and unforgettable moments spent at height. But to fully appreciate these moments, it is imperative to have reliable and solid equipment. At the heart of this equipment are the ropes course hooks, crucial elements to guarantee the safety of every adventure.
Our ropes course hooks are specifically designed to meet the needs of ropes course enthusiasts, whether novices or experts. Thanks to high-quality materials and thoughtful design, each hook not only offers rock-solid robustness, but also unrivaled ease of use. By choosing our hooks, you are choosing optimal safety, exceptional durability and compatibility with a wide range of ropes course equipment.
But beyond the technical specifications, it is essential to understand that behind every hook is a team dedicated to excellence. From engineers to safety experts, including passionate ropes course testers, everyone strives to provide the best to guarantee peaceful and pleasant moments at height.
So, for anyone looking to invest in premium quality ropes course hooks, know that our products are the result of a combination of innovation, expertise and passion. Make sure you choose the best for your flying adventures and trust us with your safety.