Net workshops for ropes course
ropes course is a combination of adventure and exploration, attracting many enthusiasts. At the heart of this activity, safety is paramount. Net workshops are therefore essential, offering solid protection and an enriching experience.
Our nets, produced after years of research, are robust and durable. Designed to withstand bad weather, they provide the confidence needed for participants to fully enjoy every moment.
Beyond safety, these nets enhance the overall experience. Whether crossing an obstacle or swinging between trees, they add a unique touch, making each course an unforgettable adventure.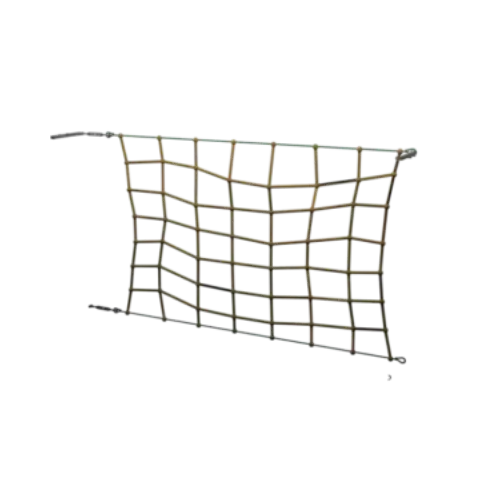 Select from a variety of net workshops, ranging from standard models to the most innovative designs, all adapted to the discipline of ropes course .
Our nets are designed to resist weather and wear, ensuring maximum durability.
Each net is tested to guarantee optimal safety for participants.
The included installation kits allow for quick and efficient installation.
Our nets provide a unique experience, allowing participants to move with confidence.
Do you have a project to create a park or need new activities?
Don't wait any longer to benefit from personalized support Your frequently asked questions
We are here to answer all your questions, don't wait any longer to make an appointment with a project manager.
Why choose our ropes course net workshops?
Our nets are specially designed for ropes course , combining strength, safety and optimal user experience.
How to maintain net workshops?
Regular maintenance with water and mild soap is enough to keep the nets in perfect condition.
Are the net workshops suitable for all ages?
Absolutely, our nets are designed to provide safety and enjoyment to all participants, regardless of age.
What is the average lifespan of ropes course net workshops?
The lifespan of net workshops depends on several factors, including frequency of use, climatic conditions and regular maintenance. On average, with proper maintenance, our nets can last between 5 to 10 years. However, it is recommended to carry out regular inspections to ensure their integrity and safety.
Make your request for information below so that a leisure advisor can respond to your needs quickly
ropes course is much more than just an outdoor sport. It is a fusion of adventure, exploration and communion with nature. To ensure that this experience is not only thrilling but also safe, the role of net workshops is crucial. Designed specifically for ropes course , these nets represent the fine line between optimal safety and enriched user experience.
The workshop nets for ropes course are distinguished by their robustness and their ability to withstand the harshest elements. This durability is the result of years of research, technological innovations and rigorous testing. Each net is designed to provide maximum safety, thereby minimizing risks while allowing participants to fully immerse themselves in the adventure.
But the role of the nets does not stop there. They amplify the overall ropes course experience, adding a level of challenge while ensuring smooth traversal from one obstacle to the next. Whether for adults looking for adrenaline or children discovering the joys of ropes course , net workshops are the key to a successful experience.
When selecting equipment for a ropes course course, it is essential to choose high-quality net shops, as they play a key role in the success and reputation of a park. With the popularity of ropes course increasing, ensuring the safety and satisfaction of participants is more crucial than ever.