Manufacturer, constructor of indoor ropes course
Specialist in the creation of indoor ropes course spaces for professionals.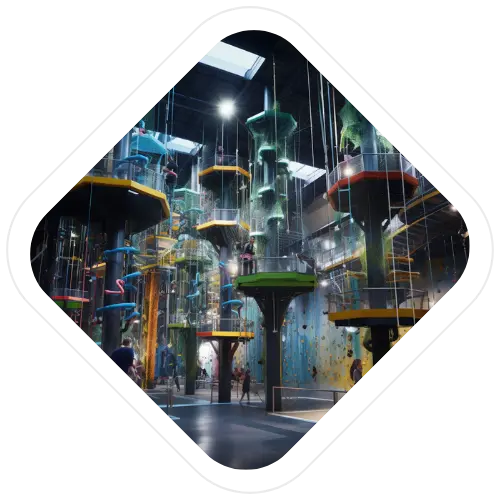 Manufacturer Ropes Course
Born in the early 2000s, the indoor ropes course combines indoor adventure and safety, offering a unique experience all year round.
Profitability

Staffing requirements

Child target

Teen target

Adult target
The prices of an indoor Ropes Course
Whatever the option chosen, our facilities meet rigorous standards guaranteeing safety and quality.
Assembly France
Self-supporting structure
Installation on 2 levels
Assembly France
Sealed structure
Installation on 1 level
Eastern European assembly
Sealed structure
Premium finish
The indoor ropes course , suitable for everyone from 6 years old, attracts families, school groups and companies for team-building.
Average access is around €20, with a potential of 200 visitors per day, allowing for considerable turnover.
The creation involves industry experts, differentiating through quality, cost and speed. Manufacturing and installation lasts on average 3 months.
Unlike its outdoor counterpart, the indoor ropes course can be used all year round, regardless of weather conditions.
Steps to create your park
The creation of an indoor ropes course park is an ambitious project that requires cutting-edge expertise and flawless coordination. With Storkeo, make each phase of production easier:
Personalized assessment : Immerse us in your vision. ropes course park of your dreams.
Real estate search : Our extensive network allows you to find the perfect site for your project.
Design and construction : From the initial idea to completion, we respect your time and cost requirements.
Maintenance and spare parts : The longevity of your fleet is guaranteed thanks to our maintenance solutions and our rich catalog of spare parts. Transform your ambitions into concrete realities with Storkeo.
Each park is a unique adventure, and with Storkeo, your project is in good hands:
Contact : An initial discussion with our project manager to understand your vision.
Presentation : Innovative activity ideas to inspire your project.
Pre-file : Development of a preliminary file based on your feedback.
Final study : Refining the file for a complete vision.
Signature : Competition of contractual formalities.
Delivery : Assists you until perfect reception.
Financing : Facilitating discussions with our financial partners.
Achievement : Monitoring the progress of the site until delivery.
Maintenance : Complete solutions for guaranteed durability.
An indoor ropes course is an investment, but with Storkeo, financing is more accessible:
Personalized solutions : Each project is unique, we guide our clients towards the best solutions.
Strong Partnerships : Access advantageous financial options through our established collaborations.
Guidance throughout the process : From start to finish, we are here to help you.
Flexibility : As your needs evolve, we support you.
Location is crucial to a successful park. With Storkeo, find the ideal site:
In-depth analysis : Define your criteria for choosing your location.
Variety of choice : Our network opens you to a wide choice of locations.
Negotiation and acquisition : We support you to obtain the best conditions.
Feasibility assessment : Before any commitment, we check the viability of the site. Trust Storkeo for optimal location.
Do you have a project to create a park or need new activities?
Don't wait any longer to benefit from personalized support Your frequently asked questions
We are here to answer all your questions, don't wait any longer to make an appointment with a project manager.
What is the surface area needed for an indoor ropes course ?
For an entry-level park, a minimum surface area of ​​500m² is recommended, but for an optimal experience, plan for 1000m² or more.
What is the average lifespan of an indoor ropes course installation?
With proper maintenance, an installation can last up to 10 years.
How to ensure the safety of participants?
Our facilities meet the strictest safety standards. Additionally, we offer comprehensive training for staff.
What is the average return on investment?
With an effective marketing strategy and optimal management, operators can generally see a return on investment within 2 to 3 years.
Explore the range of exciting adventures we have to offer.
Make your request for information below so that a leisure advisor can respond to your needs quickly
Ropes ropes course , traditionally practiced outdoors, is making its way indoors with indoor ropes course , an innovative activity which is experiencing rapid growth. Whether operators looking for the next big trend or investors wishing to capitalize on a growing sector, ropes course has become essential.
But what makes this activity so special? It offers a unique experience combining sport, adrenaline and adventure, all protected from the vagaries of the weather. It's a paradise for thrill-seekers looking to experience challenges in a safe environment.
For leisure professionals, indoor ropes course has immense economic potential. Not only does it attract a diverse clientele, from families to corporate groups, but it also promises a repeat visit thanks to the addictive nature of the activity. Additionally, by being located indoors, it operates all year round, thus generating constant income.
The ecological aspect is also a major advantage of indoor ropes course . Unlike its outdoor counterpart, indoor ropes course does not require vast areas of forest, thereby minimizing the impact on the environment.
With Storkeo, we are at the heart of this revolution. With our expertise as a manufacturer and constructor, we are the partner of choice for professionals wishing to get started in indoor ropes course . From design to construction, including financing, we guide you every step of the way. Our objective ? Transform your vision into a thriving indoor ropes course With growing demand and an expanding market, now is the perfect time to invest in the future of indoor ropes course And at Storkeo, we are here to make this dream a reality.