Manufacturer, Constructor of ropes course
Specialist in the design and production of ropes course for professionals.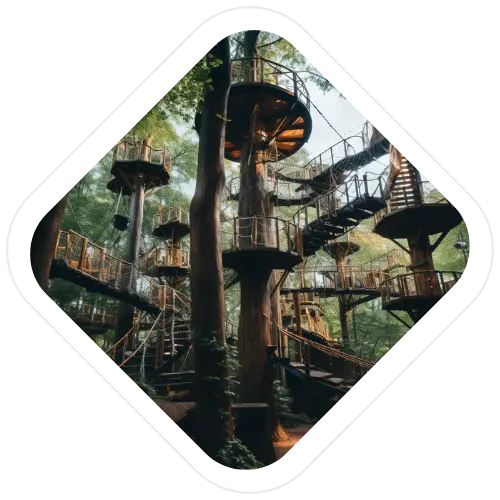 Manufacturer Ropes Course
ropes course , a leisure activity that has been growing since the 90s, offers an exceptional experience, combining sport and adventure.
Profitability

Staffing requirements

Child target

Teen target

Adult target
The prices of a Ropes Course
Whatever the formula chosen, our offers have the same guarantees and the same service
Eco Solution
EU design
Standard apparatus
Design France
Fitters France
Customizable apparatus
EU assembly
High-end materials
Premium finish
The ropes course , suitable for all ages, combines sport, entertainment and nature. It attracts individuals, families and businesses, offering a unique experience of traveling between the trees. With Storkeo, offer an unforgettable aerial adventure to a varied clientele.
With an average price of €25 and hundreds of visitors each week, a ropes course park promises a good ROI.
At Storkeo, the process of designing a ropes course is carefully planned. We collaborate with renowned experts in the construction of aerial courses to guarantee impeccable execution. Costs vary depending on the complexity and size of the project, but our commitment remains constant: quality and safety. On average, creating a ropes course park with Storkeo takes between 3 to 6 months, from the first draft to opening.
A well-designed ropes course can increase visits by 30% during summer periods!
Steps to create your park
Setting up a ropes course is an undertaking that requires extensive knowledge and attention to detail. With Storkeo, you benefit from a turnkey solution, eliminating hassle and uncertainty:
Personalized Assessment: ropes course park vision .
Real estate search: Our extensive network allows us to connect you with perfect sites, respecting both your budget and your technical requirements.
Design and Construction: ropes course installation experts oversee every step, ensuring your park is not only fun but also safe.
Maintenance and spare parts: The longevity of your investment is crucial. Storkeo provides a robust maintenance service and access to a wide range of spare parts.
With Storkeo, your vision of a ropes course becomes a tangible, smooth and hassle-free reality.
The success of a ropes course depends on meticulous planning. Here's how Storkeo supports you:
Contact: A constructive exchange with a dedicated project manager to identify your needs.
Presentation: We present activity designs adapted to your vision.
Pre-file: Development of a project file, integrating your feedback and forecasts.
Final study: Finalization of construction plans and financial proposal.
Signature: Formalization of agreements and start-up.
Execution: Rigorous monitoring of the site, ensuring smooth completion.
Maintenance: A long-term commitment to the sustainability of your fleet.
Investing in a ropes course park is a major decision that requires rigorous financial planning and appropriate support. Storkeo, recognizing the financial challenges of this project, is committed to providing you with advantageous financing solutions:
Financial Assessment: Above all, we carry out an in-depth assessment of the financial viability of your project. This step allows us to understand the resources you have and the needs you may have.

Banking Partnerships: Thanks to our solid relationships with the main financial players, we are able to offer you advantageous agreements for the financing of your project.

Advice and Support: Our team of financial experts will guide you throughout the process, ensuring that every decision made is in your best interest.

Tailor-made Solutions: Understanding that each project is unique, we offer personalized financial solutions, adapted to your needs and your long-term vision.
With Storkeo, your ropes course will not just be a dream, but a tangible reality, financed in a judicious and strategic way.
Finding the ideal location for your ropes course park is essential to ensure its success. Storkeo, with its deep expertise in professional real estate, is there to ensure that every detail is taken into account:
Site Analysis: First of all, we carry out a detailed study of potential locations to ensure that they are suitable for the installation and operation of a ropes ropes course .

Accessibility and Attractiveness: Beyond the simple availability of a space, it is crucial to take into account the ease of access for customers, the visibility of the site and its natural appeal.

Real Estate Negotiations: Our team of real estate experts are skilled in obtaining the best deals, whether you want to buy or rent the land.

Regulatory Compliance: We ensure that each selected site complies with all applicable regulations, ensuring a smooth transition from the purchase or rental process to park construction.
The location of your ropes course park is one of the keys to its success. With the help of Storkeo, you will be sure to make the best choice to maximize your return on investment and satisfy your future customers.
Do you have a project to create a park or need new activities?
Don't wait any longer to benefit from personalized support Your frequently asked questions
We are here to answer all your questions, don't wait any longer to make an appointment with a project manager.
How long does it take to build a ropes course park?
On average, it takes around 6 months to complete a project, depending on the complexity of the project. 
How do you guarantee the security of the installations?
As a certified ropes course manufacturer, each installation strictly complies with current standards and goes through several quality controls.
What type of maintenance do you offer after installation?
We offer a complete maintenance service as well as access to thousands of references for the spare parts necessary for your fleet.
Can you help me choose the ideal location for my park?
Absolutely, thanks to our expertise in professional real estate, we help you identify and evaluate the land best suited to your needs.
Explore the range of exciting adventures we have to offer.
Make your request for information below so that a leisure advisor can respond to your needs quickly
ropes course , an exciting and growing activity, captivates many people seeking both adrenaline and communion with nature. As a leading manufacturer and builder of ropes course , Storkeo is positioned at the forefront of this growing industry. Our expertise in the design and construction of ropes course extends to all aspects of aerial course construction.
Each custom ropes course installation is the result of careful planning and innovative design. Our customers, whether professional operators or new entrants into the leisure world, can attest to our dedication to excellence. The profitability of a height course, coupled with growing market demand, makes it a wise investment for entrepreneurs.
But beyond the numbers, the very essence of ropes course lies in the unique experience it offers. At Storkeo, we understand this. That's why, as experts in ropes course installation, we strive to not only meet safety standards, but also exceed expectations when it comes to user experience. From the manufacturing and assembly of adventure courses to the supply of turnkey ropes course solutions, Storkeo is your preferred partner. Opt for a certified ropes course builder and make your vision an exceptional reality with Storkeo.