Manufacturer, constructor of ropes course
Discover recognized expertise in the design of ropes course for leisure professionals.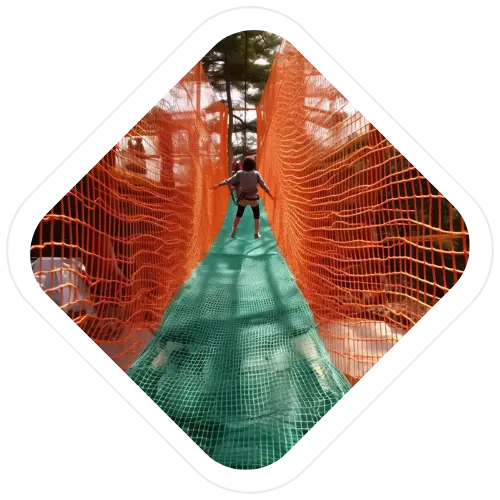 Manufacturer Ropes Course net
The ropes course net, a modern fusion of the traditional adventure course and nets, has become essential since its creation in 2010, offering a safe and unique experience.
Profitability

Staffing requirements

Child target

Teen target

Adult target
The prices of a Ropes Course net
Whichever plan you choose, you benefit from the same security standards and guarantees.
Assembly France
Self-supporting structure
Installation on 2 levels
Assembly France
Sealed structure
Installation on 1 level
Eastern European assembly
Sealed structure
Premium finish
The ropes course net combines fun and safety, ideal for all ages, attracting families and groups of friends.
With an average entry price of €20 and around 100 visitors/day, the turnover potential is attractive.
The design of a ropes course net is based on renowned European experts, with cost variability depending on the services, and an average creation time of 6 months.
Did you know that the ropes course net reduces the need for personal safety equipment by 50%?
Steps to create your park
Setting up a ropes course net park is a multidimensional challenge. At Storkeo, we offer you a turnkey solution that makes this process harmonious and efficient:
Personalized assessment: Each project begins with in-depth listening to your needs. We immerse ourselves in your vision, ensuring a design that accurately reflects your aspirations.
Real estate search: Location is essential. Thanks to our trusted partners, we find the ideal location, whether in a natural or urban setting, so that your park is an unmissable destination.
Design and construction: Our team of experts takes over, orchestrating everything from architectural design to on-site construction. With a keen eye for detail and a devotion to excellence, we ensure every element is impeccable.
Maintenance and spare parts: Even after completion, we are at your side. With access to a comprehensive range of spare parts and a dedicated maintenance team, we ensure your fleet remains at peak performance.
Each step of creating your self-supporting ropes course is crucial:
Contact : An in-depth discussion with a dedicated project manager to fully understand your needs.
Presentation : We present various ideas and concepts to you to fuel your vision.
Pre-file : After integrating your feedback, we put together a solid and convincing preliminary file.
Final study : We finalize all the details to offer you a turnkey proposal.
Signature : With all the elements in place, we proceed to formalize our collaboration.
Execution : We take care of all logistics, from scheduling to finalizing the site, while ensuring transparent communication.
Maintenance : Our support continues with a complete maintenance solution to ensure the longevity of your installation.
Navigating the world of financing can be complex, especially when it comes to a project as ambitious as setting up a ropes course . Storkeo is here to guide you.
Personalized solutions : Each project has its specificities. By understanding your needs, we connect you with tailored financial solutions, in collaboration with our dedicated partners.

Strong partnerships : Benefit from our extensive network of financial partners who offer you advantageous conditions, helping to maximize your investment.

Continuous Guidance : From start to finish, our experts assist you every step of the way to ensure you get the right financing for your project.

Flexibility : As your fleet evolves, we are here to help you adapt your financing, ensuring smooth financial management.
Decide to work with Storkeo, and secure your investment with proven financial solutions.
The success of a ropes course net park relies heavily on location. With Storkeo, maximize your potential thanks to our expertise in professional real estate.
In-depth analysis : Our team evaluates your specific needs in detail, defining the essential criteria for the optimal choice of your site.

Variety of choice : Our global network gives you access to a wide selection of locations, from natural areas to prepared terrain, all suitable for ropes ropes course net.

Negotiation and acquisition : With unrivaled expertise, we support you in the purchase or rental process, guaranteeing the best possible conditions.

Feasibility assessment : Each site is analyzed from all angles: size, accessibility, regulations, and much more, to ensure that it meets your needs and expectations.
Choosing Storkeo means guaranteeing a perfect strategic location for your ropes course net park.
Do you have a project to create a park or need new activities?
Don't wait any longer to benefit from personalized support Your frequently asked questions
We are here to answer all your questions, don't wait any longer to make an appointment with a project manager.
What is the average lifespan of a ropes course ?
With regular maintenance, you can expect it to last between 8 and 10 years.
How does Storkeo guarantee the safety of the ropes course ?
We follow strict construction and maintenance standards, with regular checks to ensure maximum safety.
What is the area needed to install a ropes course net?
It depends on the complexity of the course. A space of 500m² is a good starting point for a medium-sized park.
Is it possible to personalize the design of my ropes course with Storkeo?
Absolutely! Our design team works closely with you to realize your vision.
Explore the range of exciting adventures we have to offer.
Make your request for information below so that a leisure advisor can respond to your needs quickly
ropes course is much more than just a leisure activity; it is an immersive experience combining adrenaline, discovery and direct contact with nature. In an era where outdoor activities are becoming more and more popular, integrating a ropes course into your activity portfolio can be a winning strategy for leisure professionals.
But what exactly are net ropes course ? Unlike traditional ropes course courses which require harnesses and helmets, the ropes course net offers maximum safety thanks to robust nets, allowing participants of all ages to move freely at height. This not only provides a unique experience but also greater peace of mind for operators and participants.
Storkeo, an expert in the design and construction of leisure activities, is at the forefront of this innovation. Our expertise in creating ropes course net parks guarantees not only unrivaled construction quality, but also strict compliance with international safety standards. Every park designed by Storkeo is the result of careful planning, thoughtful design and impeccable construction.
With the growing number of people looking to reconnect with nature while seeking stimulating activities, the ropes course net market is booming. For investors and enthusiasts in the leisure sector, this represents an unrivaled opportunity to deliver a new and exciting experience, whilst ensuring an attractive return on investment.
If you are considering investing in this innovative business or simply want to learn more, it is essential to partner with a recognized expert in the field. Storkeo, with its extensive experience and proven reputation, is the ideal partner to bring your vision of ropes course to life.