Manufacturer, Constructor of ropes course poles
Specializing in the manufacturing and design of ropes course on poles for professionals.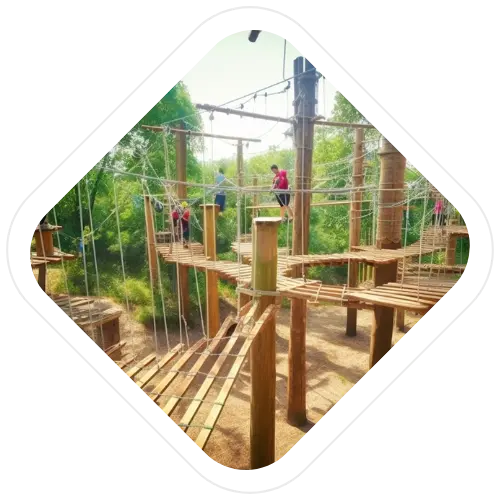 Manufacturer Ropes Course poles
A booming activity since the 2010s, ropes course on poles offers a fun experience in complete safety, thanks to artificial supports.
Profitability

Staffing requirements

Child target

Teen target

Adult target
The prices of a Ropes Course poles
Whatever the formula chosen, our achievements respect strict standards and offer identical guarantees.
Assembly France
Self-supporting structure
Installation on 2 levels
Assembly France
Sealed structure
Installation on 1 level
Eastern European assembly
Sealed structure
Premium finish
The ropes course on poles attracts both children and adults, promising challenges suitable for all levels.
On average, such a park attracts 200 visitors per day with an average price of €25, guaranteeing an attractive ROI.
We collaborate with European experts for the design. Prices vary depending on the modules chosen, with an average time of 2 months for manufacturing and 1 month for installation.
Installing artificial posts allows the course to be adaptable, offering an ever-changing experience.
Steps to create your park
Creating a ropes course park on artificial poles is an ambitious project that requires expertise and synchronization. With Storkeo, we offer a turnkey solution that facilitates each step of the process:
Personalized assessment: We decipher your vision to develop a ropes ropes course that meets your aspirations.
Real estate search: Our broad and solid partnerships allow us to find the ideal location for your ropes course on artificial support.
Design and construction: Enjoy a complete experience, from planning to construction, all on time and on budget.
Maintenance and spare parts: Ensure that your fleet lasts over time thanks to our maintenance offers and our wide range of spare parts.
With Storkeo, make your vision of a ropes course park on artificial poles a reality in a simplified way.
Contact: Discussion with our project manager to clarify your needs.

Presentation: ropes course proposals on poles to inspire you.

Pre-file: Compilation of your project file, based on your feedback.

Final study: Finalization of your construction file.

Signature: Validation of construction contracts.

Delivery: Support during reception operations.

Financing: Discussion with our financial partners to secure financing.

Achievement: Construction coordination, with particular attention to the scheduling and coordination of the site.

Maintenance: Complete solutions to ensure the sustainability of your rope ropes course on poles.
Understanding of the project : At Storkeo, we are aware of the importance of appropriate financing to transform a ropes course into reality.
Solid network : Thanks to our privileged relationships, you benefit from access to financial partners specialized in the leisure sector.
Tailor-made solutions : Depending on the size and specificities of your project, we develop personalized financial solutions to meet your needs.
Priority on location ropes course park lies in its strategic location.
Real estate expertise : Drawing on our experience in professional real estate, we offer sites that meet the specific criteria of pole ropes course
Close collaboration : Your objectives and preferences are at the heart of our approach. We carefully evaluate each site to ensure it meets your expectations.
Negotiations and feasibility : We take care of detailed analyses, evaluations and negotiations to guarantee an optimal location at favorable conditions for your ropes ropes course .
Do you have a project to create a park or need new activities?
Don't wait any longer to benefit from personalized support Your frequently asked questions
We are here to answer all your questions, don't wait any longer to make an appointment with a project manager.
How durable are ropes course on poles?
Our structures are designed to withstand bad weather and guarantee several years of service without compromising safety.
How to ensure safety on these structures?
As a ropes course poles manufacturer, we adhere to strict standards. 
Is there a weight or age limit for these courses?
Our courses are designed for different age and weight groups. Each route is clearly marked with its limits.
What is the main difference between a traditional ropes course and one on poles?
The ropes course on poles offer more flexibility in terms of design and adaptability, allowing innovative configurations.
Explore the range of exciting adventures we have to offer.
Make your request for information below so that a leisure advisor can respond to your needs quickly
Storkeo, a renowned manufacturer ropes course poles, offers innovative solutions for all leisure professionals wishing to invest in this booming activity. The ropes course on artificial support, with its specifically designed posts, offers a robust and durable alternative to traditional tree structures. With Storkeo as your pole ropes course manufacturer, you benefit from unrivaled expertise, guaranteeing a safe, attractive park that complies with standards.
Since its conception, the ropes course artificial support has quickly established itself as a preferred alternative for areas where vegetation is rare or protected. This innovation, which appeared a few years ago, perfectly combines the passion for climbing with respect for the environment.
The advantages are numerous: faster installation, simplified maintenance and the possibility of adapting the structure to varied environments. Storkeo, as a manufacturer and builder ropes course , is committed to providing tailor-made solutions that meet the precise needs of each customer, while ensuring the safety of participants.
Leisure activity operators, passionate about innovation, and investors looking for profitable opportunities are increasingly turning to Storkeo for the creation of their ropes course park on artificial poles. With our deep expertise and commitment to excellence, each park is designed to provide a unique experience for visitors, while ensuring a rapid return on investment for owners.
Investing in an artificial ropes course support with Storkeo means choosing quality, durability and profitability. Trust our know-how to make your project a resounding success.