Bridge workshops for ropes course
In the vast world of ropes course , two elements constantly stand out: safety and user experience. Our gateway workshops perfectly illustrate this fusion, creating a symbiosis between robustness and refinement.
Each gateway workshop is designed with meticulous attention to detail, ensuring not only optimal safety, but also an enriching user experience. By ensuring that each user feels both stimulated and safe, we manage to offer an unparalleled ropes course experience.
From initial design to final installation, our commitment to excellence is unwavering. By choosing our bridge workshops for your ropes course course, you are opting for uncompromising quality, safety and an experience.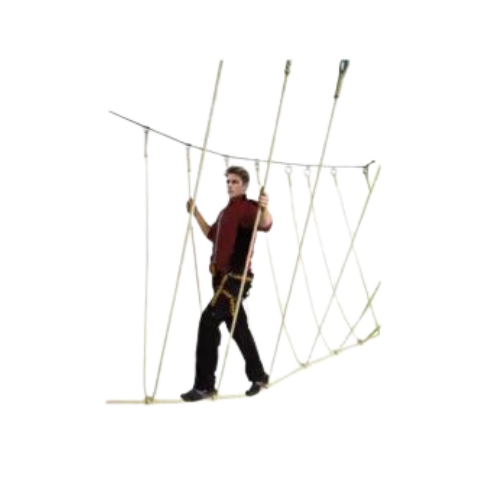 A rigorous selection of bridge workshops designed to meet the strictest safety standards in ropes course .
Each gateway is designed to withstand the harshest conditions while providing smooth operation.
Strict compliance with international safety standards in ropes course .
Easy to integrate into any ropes course , regardless of its complexity.
Our gateway workshops are constantly evolving, combining technological advances and customer feedback for optimal performance.
Do you have a project to create a park or need new activities?
Don't wait any longer to benefit from personalized support Your frequently asked questions
We are here to answer all your questions, don't wait any longer to make an appointment with a project manager.
How to maintain safety in gateway workshops?
To ensure safety in ropes course , it is essential to regularly attend training, use appropriate personal protective equipment and comply with established standards.
What is the average lifespan of a gateway workshop?
With proper maintenance, our ropes course walkway workshops can last several years, ensuring an excellent return on investment.
Can you personalize the gateway workshops according to our needs?
Yes, we offer tailor-made solutions to meet the specific needs of each ropes course park.
How can we integrate these workshops into our existing course?
Our ropes course equipment experts are available to guide you in integrating bridge workshops into your course, ensuring a smooth transition.
Make your request for information below so that a leisure advisor can respond to your needs quickly
The ropes course is more than just a leisure activity: it is an adventure that combines adrenaline, nature and safety. In this context, the bridging workshops play a pivotal role. Designed specifically for amateurs and professionals of the high ropes course, these workshops embody the quintessence of engineering and safety.
The demand for quality, reliable and durable equipment in the field of ropes course continues to grow. Responding to this demand, our gateway workshops are the culmination of extensive research, technological innovations and an unwavering dedication to safety. Each component is rigorously tested to withstand the most demanding conditions, ensuring optimal performance.
One of the main characteristics of our gateway workshops is their adaptability. Whether it is a ropes course course in the forest, in the mountains or in an urban environment, their modular design allows for fluid and harmonious integration. Additionally, strict adherence to international ropes course safety standards is at the heart of our design process, ensuring unrivaled peace of mind for fleet managers and users.
When it comes to ropes course , it's not enough to have solid equipment. It is essential to choose gateway workshops that offer a perfect combination of functionality, safety and aesthetics. Our solutions reflect this balance, making us the preferred choice for many professionals in the sector.